This is a brief history of the Thai Flying Club and the beginnings of General Aviation in the Kingdom of Thailand. This summary is written to preserve the stories from these "General Aviation Pioneers" so that people interested in writing about the history of the Thai Flying Club and General Aviation in Thailand will have access to accurate information from people that were there in the beginning. (Tom Claytor - Oct 2005)
---
Adjan Krisda Arunvongse is 72 years old, and he is still flying. He began flying in the Buddhist Era 2472 at the Civil Flight Training facility (604 Squadron) of the Royal Thai Air Force in Don Muang airport. The head of the group at the time was Col. Prasopsuk. Adjan Krisda learned to fly in a Dehavilland Chipmunk, and his instructor told him during the training, "don't try to do something that you haven't been taught to do." The Chipmunk is a taildragger, and at the time, Adjan Krisda did not know that it was a difficult aircraft to land, because it was the first aircraft he ever flew; "the plane was older than me!" At the time, Adjan Krisda was an Associate Professor at Chulalongkorn University in Bangkok teaching Architecture, and he was also running his own Architectural practice. Previous to this, he was a Captain in the Royal Thai Army, and he later served 2 years as Deputy Governor of Bangkok and 4 years as Governor of Bangkok.
Adjan Krisda first went to USA at age 16 to study at Wilbraham Academy Prep school in West Springfield, Massachusetts. He then was accepted at M.I.T. in 1950. He said that M.I.T. wanted to flunk out 1/3 of the incoming students after Freshman year, so the environment was very competitive. He chose to study Architecture because he wanted to use his life to create something beautiful that would outlast his own life. He was offered a scholarship by the Thai Government, but he didn't accept it, because he felt that it should go to someone else who needed it more than him. When he returned to Thailand with his Masters from M.I.T., he had to fulfill his military service. His mother's friend was close to General Sarit, so he volunteered to be an officer and started as Captain in the engineering Army camp in Pranburi. He also served as a Liason Officer for an American General (2500-2503) before the coup d'etat by General Sarit.
At the age of 40, Adjan Krisda had two sons (age 9 and 10). His father-in-law was very keen on radio-controlled planes which had a wingspan of 2 meters and taught Adjan Krisda's two sons to fly them. Adjan Krisda saw that his two sons were proficient, but realized that he was not, so he thought he should learn to fly a real airplane instead. He was elected president of his flight class (which 6-7 months). There was not really a ground school, they just started landing. If you could land smoothly ten times in a row, then you could go solo. He was "dying to solo." He was not scared, but really wanted to do it. During his first flight, the instructor did some aerobatics with him, and the front panel of the plane fell in his lap. It was shaky, and that first flight was confusing for him, but he continued with his training and was able to solo. Adjan Krisda pulled out a 40 year old black book to show me, and inside is written - "Solo Aircraft #66 on 22 Dec 1972 (Don Muang Airport)" - His first solo flight. His training was completed on 04 Apr 1973. He remembers that he ordered the Jeppessen manual to study and did not pass 1 of his 6 exams, so he got that teacher who had not passed him to give him the private lessons to complete his training. Adjan Krisda was awarded THAI PRIVATE PILOT LICENSE #2. One year before him, Thai Private Pilot License #1 had been issued to Prachan Gunakasem (a business man and a friend of Adjan Krisda whose brother was past Minister of Foreign Affairs and whose father was Minister of Finance).
"At that time, we had to wait 2 hours for a 15 minute flight at the 604 Squadron (and it took 30 minutes to get there!), so we were annoyed." This is when they thought they should find a private place to do their flying that was less busy than Bangkok. Adjan Krisda visited air rallies in Malaysia and Singapore, and even in Laos, they had private licenses, but not in Thailand. They presented a proposal to the Minister of Communication to have Private Flying Licenses, but the answer was No. No one could do it. The committee of the Air Force and the DCA thought it would be dangerous for private people to have airplanes. Adjan Krisda spoke to the Deputy Minister of Communications (equivalent of Lt. Col. in the Air Force). He was the brother of Thanpooying La-Iad whose husband was Luang Pibul Songkran. Adjan Krisda explained "we are having difficulty trying to fly...." There has only ever been one Field Marshall in the history of Thailand - Field Marshall Fuen Ronnapakas Riddhagni and he was an ardent flier. At Don Muang Airport, the right side was commercial and the left side was military. When Field Marshall Fuen was in his 70's he still loved to fly. They would lift him up onto the wing and put him in his seat. They would then clear the left runway for him. He would report his position by radio, but he could not hear very well, so aircraft were put on hold. He flew solo. Adjan Krisda was advised to go to see Field Marshall Fuen and to make him President of the Thai Flying Club. This is a position that "he gladly accepted." After this, the Deputy Minister of Communications presented the case for having a private flying field to the Board of Aviation. Apparently, he said that "we have a Field Marshall who supervises all Thai Airspace. If this Field Marshall cannot control this small flying club, I suggest we relieve him of his title of Air Marshall." (Dep. Min. Communications). Adjan Krisda recounted many stories of aviation at the time and that the fear was that anyone with an aircraft would want to transport opium*. He also recounted how the Field Marshall had to fly every aircraft in the Air Force. This led to the beginning of the Thai Flying Club. First it was based at Don Muang. Then it was based at Lopburi (Royal Thai Army). Adjan Krisda did 30 hours flying in a helicopter, and he remembers fondly walking around the house balancing a ball on a ping pong paddle to simulate the delicateness of the cyclic control. He also thinks the best simulator he ever used was sitting on a toilet with a rubber plunger stuck to the floor in front of him.
The Rajamangala Institute of Technology at that time was interested in setting up a Department of Aeronautical Mechanics. This led the Thai Flying Club to the location in Bang Phra. The club members in the early days suggested to Rajamangala, "let us use your runway, and we will pave it and build hangars and bring aircraft. Then when you have aircraft, you can use these facilities." Khun Prasom was the person who organized all of this. He is a very direct and smart person with the right spirit to get the job done. Khun Prasom was involved with building the runway in Bang Phra as it exists today.
Adjan Krisda's first aircraft was a PA-235 with Khun Prachan. He liked it very much. It was a true 4 seater that you could fly with 4 people, full fuel and golf bags. His second aircraft was a partnership in a Grumman Tiger with Khun Thira. He felt this aircraft had beautiful light controls and was very responsive. His third aircraft was a TB-21 Socata with M.R. Opas Kanjanavijaya. He likes it. Adjan Krisda's fourth aircraft was a Mooney 201 which he bought used from Bill Heinecke. He had endless trouble with it; it would heat up and wouldn't start, then an Australian bought it for 3 million Baht. At one time, Adjan Krisda owned 1 aircraft and shares in 2 others. Adjan Krisda feels that the potential for General Aviation in Thailand today is pull pilots of Ultralight aircraft into Real aircraft. He feels that flying clubs should strive to provide easier access and cheaper ground schools to inspire and promote flying to young Thai people and thereby encourage more people to become pilots. He also thinks that the future is bright for 100 horsepower trainers. Technology is improving, so we can make better use of what is available today to get more pilots and get more planes!
Adjan Krisda feels that General Aviation can benefit Thailand in two main ways. The first is duty in business. He is currently the Vice President of an association trying to promote aviation industry in Thailand - "Samakom-Ootsahakam-Ganbin-Hang-Pratet-Thai." He also believes it will be of economic benefit to promote General Aviation in Thailand (for developing Thai industry to overhaul engines, repair radios, maintain aircraft). Personally, Adjan Krisda feels that flying has given him pleasure and a "better approach to work and sport." When he used to play golf before flying and had to attempt a 4 foot putt, he would feel tense and uncomfortable. After learning to fly, he would ask himself, "what do I loose... a small bet." Flying has taught him to be careful and to concentrate on the preflight and the weather, so he can relax and enjoy the flying. Adjan Krisda's wife took flying lessons and completed her solo. Adjan smiled and said he used the "gift technique" to inspire her - "if you do this, I will give you the best 1 carat diamond you can find." His wife Noi was going to quit before solo, but this technique worked and she mastered landing over the tree at the end of the Chonburi airstrip to fly solo. Adjan Krisda's two sons have told him that the two sports they do not want to do are flying and shooting, because these are the sports that their father does so well.
Adjan Krisda reminded me that it was during the reign of Rama VI that aviation started in the Kingdom of Siam (with 3 aircraft from France landing at the Royal Bangkok Sports Club). This was a period of Absolute Monarchy (Pra-Maha-Thira-Ra-Jow) and no one would ever question the King's wish. King Rama VI was in Europe at age 15, and World War I made him realize the importance of relationships to maintain the Kingdom at a time of Colonialist expansion by Europe. During the reign of Rama VII there was a revolution by the military and establishment of a Constitutional Monarchy. Rama I and his brother were warriors under King Taksin. Rama I gained all the territory (Laos, Cambodia, Burma). Adjan Krisda advised me that in Thailand, you don't talk to your majesty, "you talk to the smallest dirt under your foot" (Dai-Fah-La-Ong-Too-Lee-Prabat) (under particle dust of King's feet). This shows the absolute respect and humility that Thai people have shown to their Kings through the course of their history.

The Founding President of The Thai Flying Club and some of the first committee members.
Seated: President Fuen Ronnapakas Riddhagani (Marshal of RTAF - This is the official English title which is equivalent to a Five Star General or Field Marshal). Standing (left to right): Choosak Jamornmann, Thidej Maitai, Professor Krisda Arunvongse na Ayuddya, Prasom Yuangtrakul (Secretary General), Group Captain Prasert Jaiphongsai (Vice President), Charaspong Suriyothai, Thira T.Suwan (Treasurer), Sala Padungcharoen (Photo courtesy of Khun Thira).
---
Khun Thira T. Suwan was involved with the Thai Flying Club from the very beginning. He was the first Treasurer of the club; he served 3 terms as President (from 1996 to 2002), and he holds Thai Private Pilot's License #001. His love for flying began when he was 8 years old. His mother had taken him to visit a booth for the Royal Thai Air Force, and he subscribed to "Chang Agat" (the Thai Aviation Engineering Magazine). The following year he began control line flying of model aircraft in a small area near his family house on Soi Prompong in Bangkok. When he attended Grammar School in London at age 14, he persuaded the Catholic Priests to allow him to continue his control line flying in the school yard. The priests had never seen it before, and they were quite impressed. Khun Thira then went to America to attend Carnegie Institute of Technology in Pittsburgh. His father had started a printing business in Thailand, and he was enrolled at the Printing Technology Management School. He remembers that Pittsburgh was cold, and there was one other Thai person there. When he went one day to fly his control line model in a local park, the police stopped him. That was the end of his model flying in the USA. During his second year, he went with one of his roommates, Jim Wayland, to visit a nearby airpark. They took a 30 minute flight in a 60 H.P. Aeronca Champ. It cost US$5 per hour. He remembers England being "rather conservative" and his reflections on America were that it was huge place where people were free, happy, outspoken, outgoing, and he loved the non-stop music on the radio. Khun Thira had studied the Violin and the Piano, and continued the Piano at University. His interests were Tennis, Soccer, and Fencing. After completing his studies in 1963, he returned to Thailand to work in his family's printing company with his father and his brother. He married and had some children, but flying was still in his mind. It was on a family holiday in Hua Hin, that he noticed some small aircraft landing at the airport there. He followed them and walked to the airport, and that is where he started to think.
He went to visit the R.T.A.F. (Civilian Flying Club) on the West side of Don Muang Airport. In those days there was only one runway and previously the club had used a Piper Cub and a Tiger Moth. This was the only place a civilian could fly. He was enrolled in class 21. He is first flight was on 09 July 1964, and his first solo on 22 August 1964 after a total of 6 hours 12 minutes flight time. It took over a year to finish, because often there were maintenance delays, but he received his "Graduation Certificate" from the Civilian Flying School in 1965. In 1974, The Singapore Flying Club hosted an Air Rally in which Adjan Krisda also attended. This was Khun Thira's first flight in a twin Comanche twin engine aircraft. The Thai visitors would fly by commercial aircraft to Singapore and then rent the aircraft from the Singapore Flying Club. "During the Air Rally, we would have Spot Landing competitions (with power and without), then Navigation Exercises along a course to try to find pictures of landmarks, and we also be tested on the Rules." In 1976, Khun Thira h
ad his first flight in a Cessna 150 at Hua Hin. "After 12 years of flying Chipmunks, some of us (Khun Chusak, Khun Payom, Khun Thira, Dr. Tawin, Khun Prasom, and others) felt that we would like to get our license for private aircraft." Kruu Krasin was the director of the flying in Hua Hin, and he was one of the nicest people you could ever meet. He was very supportive and helped with transition training. They would organize the ground school in Khun Thira's house - a total of 120 hours - during the weekends. They applied for an exam at the DCA and a Flight Exam at Hua Hin. Their class was not the first; there had been 2-3 before them. They all received their Private Flying Licenses, but there was no where to use them. Khun Prasom was very much at the forefront at this time. There was a Cessna 150 available, possibly from Laos, and they got together with the R.T.A.F. Civilian Flying Club and bought the plane and donated it to the club with military registration. At that time, no private person could own an aircraft, and it occurred to us that to form a club (association) was the way to go.
They submitted and registered with the Ministry of Education an "Association" (no privileges - only the name). The next step was to contact the DOA. In the back of their mind was security. They were requested to submit "Rules and Regulations" for their Association which outlined the purpose, the details, and how they planned to control and organize the club. Kruu Krasin was still the Director of CATC (Civil Aviation Training Center) in Hua Hin, and he was 200% supportive of the project. The DOA looked up to him. After 3 years of paperwork (through several Cabinets) special authorization was issued to start operations. Only TFC had such a privilege (because this occurred on a case-by-case basis). Khun Prasom couldn't wait. He went shopping for aircraft in Arizona, USA and found two used aircraft - two Cherokee 140 aircraft at $14,000 for both. Now that they had the Association going, let's buy the two aircraft and get going. Kasikorn Thai Bank authorized the loan, and the two aircraft were shipped to Hua Hin. The CATC mechanics helped to assemble the aircraft and the DOA issued a special permission to test fly the aircraft. Most of the DOA were supportive of the idea to fly. After that we were still waiting. Khun Prasom got to know the Commanding Chief of the Army Aviation Center in Lopburi, Major General Sathien Nilkamhaeng (Soon Gan Bin Tahan Bok), who was very nice and supportive. We were blessed, right from the beginning, and he was a pilot too. The Army took us in and let us fly there. There pilots would fly in our aircraft too, and thus the Aircraft Evaluation Program was born and the two aircraft were named "Army 1001" and "Army 1002." This was at the "SaPranNak" Army Airfield (8 NM North of the RTAF KoKraThiem Lopburi Airfield).
It was 17 December 1976 when Khun Thira received his Thai PPL license. It was one day in June 1979 when Khun Prasom and one Army Major flew the two Cherokee 140 aircraft from Hua Hin to Lopburi. (These aircraft are now still flying in Thailand - Army 1002 is now HS-ATK owned by Khun Wichai Laksanakorn and Army 1001 is now HS-ATJ owned by Thai Flying Club). The club now had 30-40 members and they were flying every weekend up in Lopburi. Khun Thira bought his first aircraft - a Grumman AA5B (partners: Thira, Opas, Krisda, and Khun Charatpong Suriyothai). It arrived in Hua Hin in August 1979 and became "Army 1003" (this aircraft is now owned by Khun Preecha). It was a fast, light, responsive airplane with a good view. "Now, we could go ANYWHERE." No prior permission, no landing fees. We flew to Chiangmai, Chiangrai, Hat Yai, Kanchanaburi, Phuket. Our fuel range was 4 hours at 115 knots. The only thing we had going was the ADF. We flew by Dead Reckoning and Pilotage." Khun Thira recalls one difficult flight when he flew from Lopburi to Chiangmai via Phumibol Dam. It was hazy with 1-2 miles visibility. The ADF was wandering and for 20 minutes, he was lost. He switched to the AM radio station in Chiangmai, and he was able to make it. The AM radio stations were very helpful in those days. The Thai Flying Club was based in Lopburi for 4 years from 1979-1983.
The President of the club was Air Marshall Fuen. He was close to 90 years old, but his heart was in flying. He was 1,000% supportive of us. He was the founding president of the club, and he never missed a meeting. We had monthly meetings for almost 10 years. The club grew to over 100 members on paper. It used to take 2.5 hours to drive from Bangkok to Lopburi. Our biggest event was our 3rd Air Rally in 1980 to Phuket. We had our 3 Army club planes, 3-4 planes from CATC, 4-6 planes from the Air Force, and about 10 planes from Malaysia and Singapore. We had about 20 planes in all. We flew over the city of Phuket and dropped leaflets about the Air Rally. 10,000 people came to the airport. We had problems with crowd control during the flour bombing. This was the first large Civilian Flying Event in Thailand. During the last day of the Air Rally in Phuket, on Sunday, the front page of the Bangkok Post read "Cabinet Approves Thai Flying Club." This was the first we heard of it, so in December 1980, we received our permission. Now, the TFC could own and operate aircraft. The next episode was Bang Phra.
Khun Prasom got to know the head of Rajamangala Institute of Technology. Prasom was the Secretary General from the day the club was formed, and he was really fantastic at getting to know people and to convince them of what he wanted. Professor Doctor Adjan Saward Chaikuna was the Rector of the Institute. He was a part-time pilot who flew in USA and was very sympathetic to the club. The Institute had a beautiful campus in Bang Phra with plenty of land, and the In
stitute was thinking about Aviation Agricultural Research. The Thai Flying Club was given permission to build the runway and to operate there. The institute would keep an aircraft there for Aerial Agriculture Operations. This C-150 is still based at the club.
On 13 May 1983, the first Civilian Aircraft landed in Bang Phra. Khun Prasom had gone to Singapore and bought out a club that was closing. The Thai Flying Club bought four C-150's and two Cheetahs. The Thai DOA went down to Singapore and registered them (4 C150s: HS-ATC, HS-ATD, HS-ATE, HS-ATF, and 2 cheetahs: HS-ATI, HS-ATH). Khun Charatpong, Chusak, Thira, Prasom, Krisda, Opas went and flew them back from Seletar via Penang, Hat Yai, Surat, Hua Hin with a 5-10 minute spread between each. Five of them landed in Penang, but Khun Charatpong in the C-150 was still missing. The aircraft finally landed 1 hour late. He had accidentally set his heading to 035* after take off, rather than 350* until he asked himself "what is the sea doing on my right?" The ATC kept calling him, but he kept quiet. These were the first 6 aircraft and they landed in Bang Phra on Runway 23 on 13 May 1983. Then on 18 June 1983, Army 1001, Army 1002, Army 1003 arrived from Lopburi (and became HS-ATJ, HS-ATK, HS-ATG). These were the first 9 aircraft in Bang Phra. There was one hangar and a laterite strip. Every cross country flight needed prior permission from the DOA which took about 2 weeks to obtain.
The next milestone was for the government to allow private ownership of aircraft. Khun Prasom, Thira, Wichai all had to work hard to persuade the DOA to allow private ownership. Khun Virayudth Didyasarin was very helpful at this time. He was highly respected in Thailand, and it was his idea that the government should look at the development of the aviation industry in Thailand as a whole and not a case-by-case basis. He organized 3 seminars (2 of which were in November 2538 (Buddhist era) and January 1995). This included the Minister of Communication and were to build up support and open discussion. Everybody was there. The seminars raised interest in the Government sector. Prime Minister Anand's government approved in Parliament and it became law, but with some strings attached - owners had to be Thai Nationals, and they had to obtain 5 year Permits for Operating their aircraft. This allowed the government to maintain control that they felt comfortable with. In practice, the club is free, except for the request for flight clearance. After a few more years of good relations and meetings with DOA and Director General, they allowed us to fly cross-country without prior permission.
In 1988, Khun Thira bought his TB-20 Trinadad retractable gear aircraft. In the early 1990's DOA stopped the regulation for prior cross-country clearance. The DOA did request that Bang Phra have an ATC, so we hired a part-time ATC from Bangkok to handle air traffic control on the weekends. The Thai Flying Club has had a tremendous effect on the development of General Aviation in Thailand. "We started everything rolling." Khun Thira is very humble about the achievements of the club, but it is very obvious that General
Aviation would not have progressed as fast nor as far in this time frame without these special pioneers. Khun Thira feels that their early objectives were "to let everyone enjoy the skies as they wish." That goal has been achieved. Khun Thira shared that flying has taught him to be careful, follow rules, and always have a way out for emergency. The club developed the idea for the "Winter Tour" as a social activity, for enjoyment, but also to share costs and enable everyone to gain experience. Being involved with flying for most of his life as a hobby has given him a different outlook and perspective: "Once you're up there, it will change you. I love the freedom of movement. It makes me want to share flying with others." Khun Thira loves ultralights, especially with high fuel costs, and he is thankful that the DCA has let it go and is allowing the development of ultralight flying in Thailand. His greatest flying memory was his first flight to Phuket over Pang Nga. It was so beautiful. During the years he has flown in Thailand, he has noticed some changes on the ground. "It is so sad to see those hills and jungles up north deforested. It is very sad and very noticeable." Khun Thira's greatest flying mentor was Kruu M.R. Kampoon Thongthem (Dep. Director CATC in Hua Hin when he first went for his PPL). He taught me the importance of CHECKLISTS and to FOLLOW THEM.
ERRATA: from Khun Thira (18feb2010) -- Thanks for your e-mail but some facts need to be cleared. Although my license number is no.1, it was not the first PPL issued. In fact, I was probably the 5th or 6th I'm not sure. It was however the first of this new PPL format issued bu the DOA. I would be embarrassed if people were led to believe that I was the first private pilot in Thailand. To find out who was the real first PPL, you would have to ask the DOA. Another error, Kru Krasin was not the director of CATC. He was the chief of the flight training division of the CATC.
---
Major Suropol Premsmith is 73 years old. He was born in Prachinburi and started flying for the Royal Thai Air Force in Korat when he was 17. He says that in Laos, they have a proverb - "Ma Noi, Bow Loo Jak SuuA" (the puppy doesn't know the tiger). Kruu Surapol started his training in the Dehavilland Chipmunk, then in the T-6 American. From 2495-2497 (Buddhist Era), he was in the "Top Ten" Groundschool. There were American U.S.A.F. instructors who trained him in cross country and night flying. He finished in the top 80% of his class. The top pilots have two choices - they become Fighters or Instructors. Everybody else goes to fly cargo or something. At age 19, Kruu Surapol was flying the F-8-F American Grumman Bearcat. This was a single seat tailwheel fighter aircraft with an 18 cylinder radial engine. "I liked it," Kruu Surapol says, "It was flexible and could do everything. The aircraft was designed for World War II." He flew the Bearcat for over 15 years. By the year 2515, he had 2,300 hours in the Bearcat and 7,000 hours in the T-6 as an instructor for combat flying. The Thai word for "Bearcat" was "Mee-Maeow." In 2499, Kruu Surapol was in Vietnam. His missions were "Go and Back" in the T-28. Kruu tells the story of the Top Secret Air Attache from the Pentagon in USA who was conducting the operations in Laos from Vientiane. Kruu Surapol was based in Udon Thani. He would fly to Vientiane for "Weapon Loading" then "Bomb or Rocket the location" and return to Udon before nightfall. There were two times that he landed in the secret CIA airbase of Long Tien. One night, the Air Attaché had a party up there, and they flew up in a C-47 to attend the party.
From 2505-2506, Kruu spent 21 months in Laos. He was hit 6 times by bullets from antiaircraft fire. The bullets were Russian. Now, after 47 years, he can talk about it. During the war, he had to change his name and nationality. "My name was Lieutenant Douwan, and I was Lao." Kruu flew more than 200 missions "up North" and this is where he learned the expression "Ma Noi, Bow Loo Jak SuuA." It is from "Boh-Rahn" (old Thai History Story), and it refers to someone who doesn't know "Who-is-Who." It takes time and experience before one can really tell who is who, and this is why sometimes the little dog can wander innocently up in front of the Tiger. The airplane is the Tiger, and if you are not careful, it will eat you. It is an interesting concept. In 2504 was the critical war period in Vietnam. Kruu was there. He flew a top secret special flight from Udon to Danang. Then he spent two months flying the L-19 "Birddog" around Danang for the Agency and observing movements on the ground.
"Being a Fighter Pilot is like Thai Boxing," Kruu says. At age 24-25, he was in the program called "Water Pump" to get the American Wings. This was the training for "up North." From 2503 to 2515, Kruu also flew escort for His Majesty The King. He did these flights in a T-6 or a T-28 based at Prachuap Khiri Kan. Back then, they had Pink Areas, Grey Areas, and Red Areas. "The Pink areas were 80% communist; the Grey areas were maybe communist, and the Red areas were 100% communist." The King was in a helicopter and would drop in and walk on the ground. Kruu's job was to protect him while in the air. If you fly escort for H.M. The King for more than 8 years, His Majesty awards you with a medal. Kruu Surapol was also on the T-6 Aerobatic Team and flew 3 times for His Majesties The King and The Queen - twice at Prachuap and once at a gunnery range in Lopburi. Around Kruu Surapol's neck, he wears 3 Buddha images on a gold chain. The one in the center is the Buddha "Jitrada" which was hand-made by His Majesty The King with H.M. The King's Seal on the back. His Majesty The King presented this "Jitrada" to Kruu Surapol at the Royal Palace in Hua Hin in July 2511. The serial number is #2502, and His Majesty The King said to Kruu Surapol, "if you die, this should be given this to your eldest son."
In November 2524, Kruu Surapol flew to Libya. He was locked up in a hotel in Moscow for 13 hours while they checked everything, then he continued on Aeroflot to Bulgaria and on to Tripoli. He had no Visa. They just stamped "employee" in his passport. Kruu went to Libya to fly the C-188 Agtruck and spray fertilizer. He spent 3 years flying in Libya, and sometimes was assigned to fly the Cessna twin Eagle. He only met Khadafi once for about 10 minutes during a visit to his group. That was the time when Libya had shot a missile towards an airfield in Spain, but an American Navy Vessel on standby, shot the Libyan missile down. Kruu was based in a place called Abu Aija. It was just a dirt airstrip, but Kruu was there when the USA flew in and bombed Khadafi's house at night. "They came in at 200' under the radar. Ten miles before target, they climbed to 10,000' then attacked and bombed Khadafi's house. They killed his son," Kruu says.
In April 2526, Kruu came back to Thailand. After 3 weeks, Khun Prasom said "Welcome to come and set up in Bang Phra." There was just a tent and jungle and 6 planes. This was right in the beginning, and it was Kruu Krasin from C.A.T.C. in Hua Hin who sent Kruu Surapol to help Khun Prasom. Back then, we were 3 mechanics (Lek Chareonrat, Sanan (Num's dad) and one other) and Kruu Surapol was the pilot. There were four C150s, a Tiger, and two Cherokees with around 56 members. Kruu remembers Club President Field Marshall Fuen very well. "He would come many times and sit in the tent with a cigar and a Brandy, and he would remark that you can see Khun Suvit Wanglee make a good landing when there are many pilots around the world who can't land here." In those days, Bang Phra was short, small, with many obstructions. It was about 800 meters long with coconut trees, "Ton Son" (tall trees), Eucalyptus trees and dirt.
Kruu Surapol has survived 10 airplane crashes or engine failures. One was at 6,000' over Rangsit in Bangkok in a Bearcat when #5 cylinder broke, and he deadsticked it onto the runway at Don Muang. There was another one when he hit an "Eelang" (huge heavy bird similar to a vulture) in a T-6 during aerobatic training up in Lopburi; it smashed 2' of the wing, but he landed safely. He had a prop strike in a Bearcat in heavy rain when the plane skidded off the runway. During a formation flight, an aircraft collided with him in the air and crashed killing the pilot, but he was able to to return and land safely. He was ferrying a Tiger from Malaysia with Khun Wichai Laksanaksorn when the engine failed, and the Malaysian police locked them both up for 10 days in the Loomut Hotel at the Navy Base. He was in a Grumman at 2,000' after taking off from runway 23 at Bang Phra when he had an engine failure and landed near the beach South of Bang Saen. He had a landing gear malfunction and wheel up landing in Bill
Heinecke's Bonanza. Then Khun Wichai's Malibu engine failed and he landed gear up in a fish farm in Bang Bla South of Bangkok. Then Supap's Mooney was scribbled at the end of runway 23 in Bang Phra on an aborted go-around during a test flight. The latest was during a Cessna 206 test flight when the engine stopped due to a fuel situation after a low pass down runway 23. He didn't make the mistake of attempting to get back to the runway; he pulled it around and dropped into a patch of dirt next to a rice field. All on board were slightly shaken, but not damaged. Kruu Surapol is still flying every weekend at Bang Phra. Those who have had the great honor of flying with him will know the famous "Step1-Step2-Step3 approach." Many people have also been coached by him during water balloon bombing competitions at Bang Phra, and those who have followed his advice have usually won. There is little doubt that Kruu Surapol is one of the living legends of the Thai Flying Club, and if you are lucky, he might even remind you - "Ma Noi, Bow Loo Jak SuuA."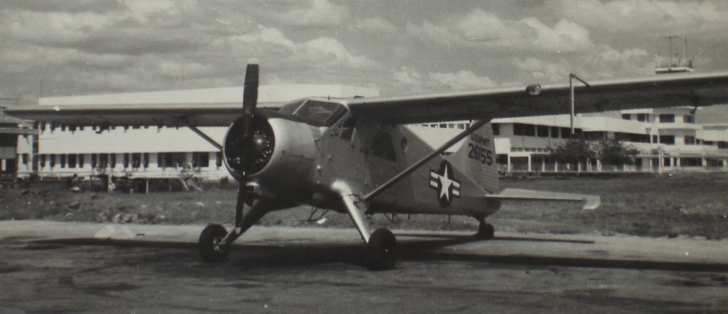 Photographs collected by Kruu Surapol during his flying career in Thailand.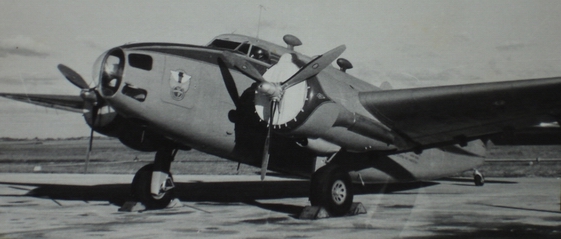 ---
Khun Wichai Laksanakorn was the fourth president of the Thai Flying Club. When he was in 8th grade (mau 4), he won the Air Force contest for Rubber-band powered balsa airplnes (kleung bin chai yang). He started flying when he was 39 at the Civilian Flying Training Division of the Royal Thai Airforce at Don Muang. This was class 33, and Wichai was the head of the class. Khun Wichai has been to Oshkosh in US more than 12 times, and he has owned four different airplanes - including a Piper Cherokee, Cessna P210, Piper Malibu, and PZL-104 Wilga. They are all different and they are all his favorite, he says. The Cherokee is docile, the 210 and Malibu are for long distance, and the Wilga is just plain fun. Wichai served as Secretary of the Thai Flying Club for 6 years under the second President Air Chief Marshall Amporn Kondee. There were two major advances in General Aviation in Thailand that occurred during his sixth year as Secretary. The first was that the club succeeded to convince the authority to allow registration of private aircraft under an individual's name. Previously, they were only registered under the club's name. The second major advancement was that they succeeded to convince the authority to deregulate and to allow cross-country flights without prior permission. Previously, the club had to request two weeks in advance. Subsequent to deregulation, they could file a flight plan and go. Khun Wichai stresses that these advances were only possible because of the ten years of good behavior on the part of the club in which time, the club had built a good trust and friendship relationship with the Department of Civil Aviation. This is one of the special ways that progress is made in Thailand. Khun Wichai also has his helicopter license which he received at the Civil Aviation Training Center in Hua Hin in a R22 and Engstrom helicopter. He also has a helicopter kit in his factory. He explains that flying is something that is born in you. He was always mechanical minded and after graduating from Chulalongkorn University and then completing his Masters in Mechanical Engineering at Oregon State, he set up his own consulting engineering firm in Bangkok.
Wichai's greatest trip was in his Cessna P210 flying from Santa Monica, California to Thailand via Greenland, Europe and India. He has flown many times in L.A., USA and even made a 6 hour flight from Washington, DC to Oshkosh in a C172 with Tango Squadron's Captain Samran. Wichai's flying experience in USA and as a mechanical engineer has been a great help for building the relationship between the club and the Department of Aviation. He has had two "landings-outside-of-airstrip," as he calls them. One was in Malaysia when he was flying with Kruu Sirapol and they ditched in a cleared construction area of th
e Malaysian Navy Base at Lumut (northwest of Kuala Lumpur). They were confined in a hotel for 7 days for interrogation, but everyone was very polite to them. His second "landing-outside-of-airstrip" was in the Wilga in a sugar cane field. The engine quit due to a low fuel situation during a turn. Wichai loves the aircraft with strange configuration, so the Wilga has a special charm for him. He also loves the radial engine, because there are not many left these days. His love for this special plane has given a special character to aviation in Thailand, because this airplane is very expensive and demanding to maintain, so it shows the love for aviation and the trust and cooperation from the DCA. He loves the flying and handling of a highly maneuverable machine, and it was his and his partner's idea to paint a grasshopper logo on the side. Wichai would like to see more people in Thailand use light craft for short distance travel and sport flying. There are not many places in Asia where you can do this except for Malaysia and Philippines which are a little bit ahead of Thailand. Wichai is very excited about the opening of this new airfield at Airfield at Klong See. It was his dream to do this, and he had the land, so he finally completed his dream to make an airport for his happiness. He is planning an opening celebration for early in 2007.
---
FIRST FLIGHT THE MOVIE
The Thai Flying Club was very involved in the making of the Thai Feature Film "First Flight." Dr. Choladhis, Khun Wichai, and Khun Nawaporn generously gave the use of their aircraft for aerial footage. This film is about the beginnings of aviation in the Kingdom of Siam in 1911, and it is the first Thai Movie to use real aerials -- www.firstflightmovie.com
---
Thailand's General Aviation Pioneers of Today
This photograph was discovered at CATC in Hua Hin. Anyone involved in General Aviation in Thailand today will recognize many of the faces here. "Miss Siam" and Khun Luan were the General Aviation pioneers of Thailand 70 years ago. These are some of the General Aviation enthusiasts of today.
---
With grateful appreciation to all of the above,
Interviews conducted by Tom Claytor in 2005 (2548 Buddhist Era)
www.claytor.com